Extending Zero Trust to the endpoint
One of the most recent cybersecurity trends is Zero Trust. It's a modern cybersecurity concept stating that threats should be expected from the inside and the outside of the organization. It's another way of saying you should trust nothing but verify everything. This approach is most prominent in cloud data security but is also making traction in endpoint security.
The trickiest part of this equation is that the endpoints are never in the same place for long. This also includes potentially harmful environments, i.e., public hotspots, not to mention homes with several connected IoT devices. This makes Zero Trust architecture for endpoints a critical issue that needs addressing. Here's how remote employees (and their endpoints) could be secured within the Zero Trust security framework.
What is endpoint protection?
Endpoint protection relates to the security mechanisms designed to secure devices like laptops, smartphones, and other mobile devices. Essentially, the endpoints' security is the layer with which users interact directly. Endpoint security systems deployed on the cloud enforce the protection mechanisms themselves.
It's a night and day difference from the cybersecurity solutions that used to be installed on the endpoints themselves, like antiviruses. Not only did this prove to be a resource hog slowing down the device, but it also heavily depended on pushed updates. The security solution is remotely delivered to every connected device with cloud delivery with endpoint security systems. It's a much more effective solution against aggressive malware types.
The general rule is that your network will remain secure if your endpoints are protected. Endpoints are the first frontline that hackers will test as they have large attack surfaces and can be severely under-protected. Weak passwords and loose user authentication mechanisms harm an organization's security.
Modern endpoint protection systems are highly automatized structures capable of monitoring, detecting, and containing various malicious processes. This is ensured by always-online requirements, constantly exchanging device posture with the cloud, and checking for risks.
How Zero Trust works alongside endpoint security
One of the biggest mistakes an organization could make when implementing the Zero Trust security model is believing that transition to cloud infrastructure will be enough. While cloud security is important, a holistic approach works best when ensuring security is level across the board.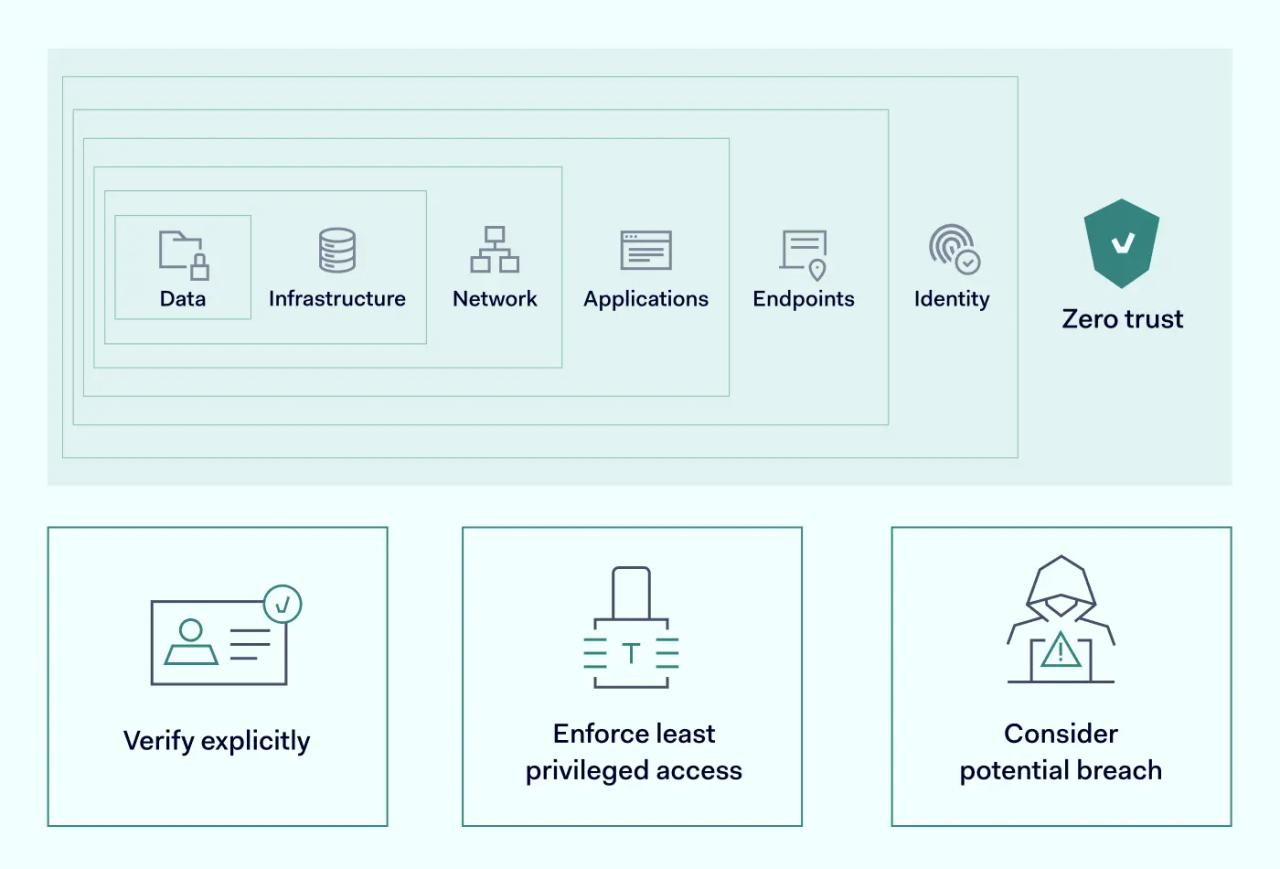 Only focusing on the cloud could mean leaving endpoints unprotected. Therefore endpoint protection should be one of the key security strategy elements. One of the best practices is using various cybersecurity technologies and mechanisms to create several layers of barriers. Endpoint protection should be regarded as one of those barriers that should be secured the most.
Zero Trust as philosophy should still stand at the forefront of any of your decisions-security wise. This central concept should tie every used technology into a secure ecosystem. A big part of its responsibility will depend on your provider selection, especially if you're building your security model on their framework. Security vendors apply emphases differently, so you should research how it could benefit your unique business case beforehand.
Benefits of an integrated approach: Zero Trust for endpoint
Endpoints are one of the trickiest IT assets to protect. In addition, they also contribute the most to your attack surface size. As your organization's weakest link, you should make no compromises for their security. An integrated approach between the Zero Trust security model and endpoint protection could be an optimal solution in this case.
Its application would require verifying every device on the network, including guest devices and other devices that employees use to access work materials. The bottom line is that your Zero Trust policy should cover them even if the company doesn't manage its ownership. This aspect is especially important for an organization implementing bring-your-device policies.
Here's how interconnecting Zero Trust with the endpoint may address these problems.
1. Unified endpoint access system
Juxtaposing different systems in the periphery of the Zero Trust setup might make things more complicated rather than adopting the same structure across the board. Zero Trust comes with Identity Access Management, meaning that the same user identity needs to be authenticated once to obtain navigation around the network. If your user has permission, it will be able to access everything that he should be allowed to access without needlessly passing repeated checks. This streamlines the security, which also benefits the fluidity of your workspace workflow.
2. Helpful management automatizations
As one of the essential Zero Trust components is an extensive monitoring mechanism, this lifts a burden from the shoulders of the IT staff. The system checks the network in real-time, looking for signs of issues. It also provides instant alerts to the network administrators that only have to respond to already identified suspicious behaviors rather than find them manually.
The responses to the user's requests are also streamlined by using the Zero Trust systems. IT administrators don't need to jump back and forth on help desk requests when users forget their passwords or have issues with application access.
3. Better network assets overview
Zero Trust fundamentals require higher visibility of all devices on the network, including endpoints. Its implementation will need mapping the network itself, cataloging all organization-managed devices, etc.
This should be a much more insightful method providing more data than conventional endpoint management systems that can't see everything. On top of that, automated detection and response mechanisms quickly alert if the system spots something odd. That way, the complete visibility is combined with better endpoint protection without excluding them from the equation.
4. Cybersecurity solutions consolidation
As the Zero Trust approach can be applied for endpoint management, it helps to drive the expenses down. Using a single system for cybersecurity orchestration allows you to free yourself from providers offering a single function. So not only is it cheaper, but it's also easier to supervise even when your teams are remote.
5. Easier regulatory compliance and higher data security
Since Zero Trust is set on data protection, unauthorized access is very hard. This helps with endpoint security, as well. Following the Zero Trust model, the most sensitive data is never stored on the endpoints. However, access from endpoints has to meet security policies to be allowed, creating a safer ecosystem more suited to device protection.
This also makes it easier to stay in line with compliance requirements, as you only need to ensure that it's properly secured in the cloud. The access can be set up with various dynamic controls drawing on the implemented security policies. They can be set up per user or team without reengineering the whole setup.
Cheat sheet & summary
The Zero Trust concept is a perfect starting point for modernizing your cybersecurity approach. This is extremely relevant when applying the Zero Trust concept to endpoint protection, as it's one of the organizations' greatest sources of risks. However, successfully merging the two can have numerous beneficial effects throughout your organization.
It helps to achieve a seamless experience across endpoints for all the users

Simplifies operations management and its supervision

Increases visibility and monitoring

Helps to manage expenses and drives the costs down

Allows smarter data segmentation ensuring better compliance
There's always a way to do more, for instance, by introducing a secure access service edge, however, even with Zero Trust, optimal results can be achieved. All of these contribute to your organization's cybersecurity health. The Zero Trust approach's close integration helps businesses achieve tangible security improvements that prepare the organization better against evolving cybersecurity threats.