SASE: benefits & challenges
Secure Access Service Edge (SASE) uses Software-Defined Wide Area Networking (SD-WAN) to provide robust enterprise network security. The result is a single cloud-based service that offers multiple benefits relative to legacy systems.
Benefits of SASE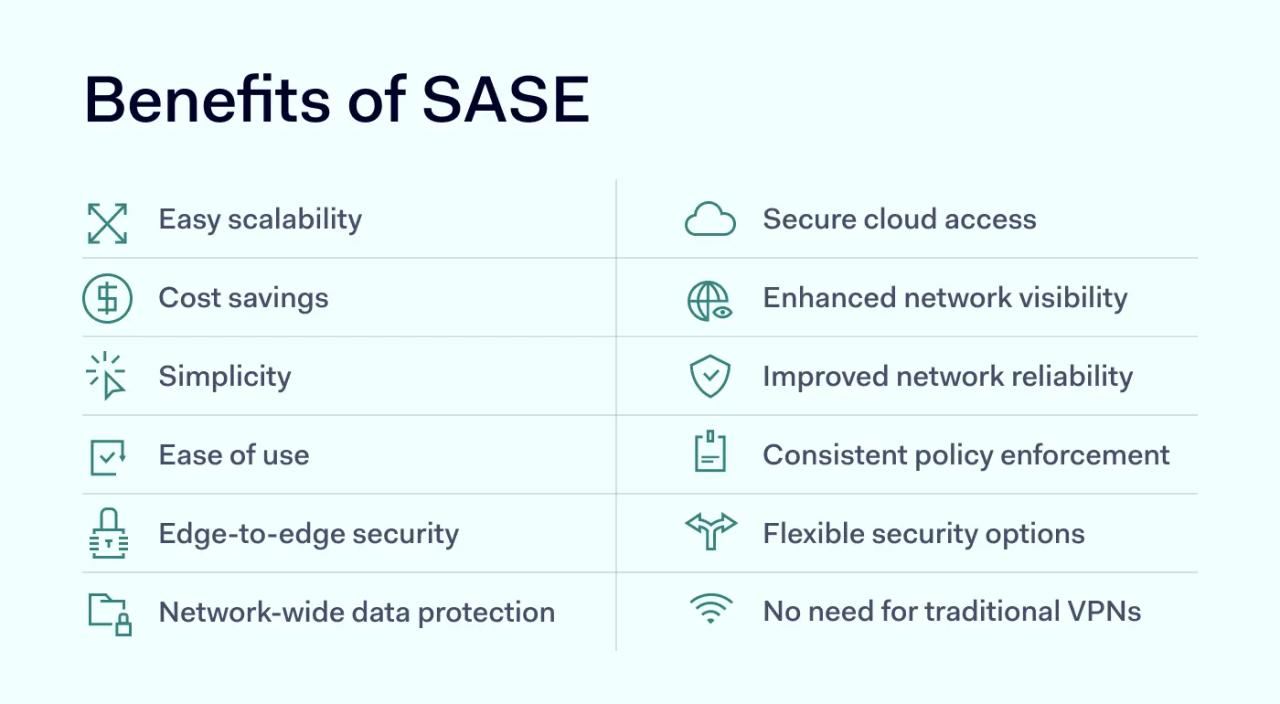 SASE differs from traditional security approaches in a range of ways.
Traditional approaches often revolve around

Virtual Private Networks

(VPNs), firewalls,

SSL

/

TLS

encryption, malware, and virus detection, and brokering services for web applications.

SASE brings those features together. SD-WAN creates a single brokering fabric controlled via a centralized control console. Firewalls, cloud brokerage, and other critical security tasks combine in a single service accessible from the network edge.
With SASE, enterprises can enjoy safe, efficient access to critical network assets. They can prevent cyber threats, scale network protection, and apply security controls via a simple interface. Protection tracks network expansion. No matter how large networks become, SASE can scale easily.
SASE-based security is tailor-made for today's cloud-dependent companies, and many benefits flow from SASE implementations.
1. Easy scalability
Network geographies and configurations can change from week-to-week as new services come online, user communities expand, or the mix of on-premises and remote users shifts. SASE accommodates network flexibility, scaling easily whenever expansion is required.
SASE minimizes the need for network hardware, and SD-WAN tools cast a secure net across all assets without physical data centers and servers. Updating hardware consumes less time, and network technicians can make changes rapidly as the situation alters. So businesses can add branch offices to existing SASE architecture quickly and reliably.
2. Cost savings
SASE reduces the cost of securing and running corporate networks while boosting efficiency in the process. Legacy security models often incorporate multiple solutions from different vendors. Vendor proliferation results in complex configuration procedures, as all tools must receive regular updates.
SASE solutions bring security tools under a single umbrella. Cloud-based tools facilitate easy maintenance compared with legacy models. As a result, staff can reallocate their time and resources to concentrate on critical tasks.
3. Simplicity
Legacy solutions tend to become overly complex. Application sprawl creates unmanageable updating burdens and raises vulnerabilities to emerging threats.
SASE avoids unnecessary complexity, integrating technologies like Firewall-as-a-Service (FwaaS), URL filtering, intrusion prevention systems (IPS), and real-time anti-malware scanning. There is no need for multiple applications.
Additionally, SASE tools deliver simple endpoint protection for cloud-based networking. Security teams can detect threats immediately regardless of endpoint distribution, and there is no need to track every single endpoint manually.
4. Ease of use
SASE tools make network management easier on a day-to-day basis. IT administrators can use SASE consoles to manage security from a single location. As networks scale and change, controllability remains constant.
SASE simplifies the task of onboarding new employees or managing contractors. It also frees valuable time administrators can spend improving user experience, handling technical problems, and fine-tuning security policies.
5. Edge-to-edge security
One of the core benefits of SASE frameworks is bringing all security tools together in a holistic cloud platform that protects sensitive data at the network edge.
Tools like Secure Web Gateway (SWG) and Next-Generation Firewalls (NGFW) reach the furthest network edge, providing a robust perimeter for companies dependent on edge computing and distributed data centers. Remote workers can connect safely, gaining seamless access to centralized resources.
6. Network-wide data protection
Data protection is a core task for any corporate network, whether assets reside in the cloud, on central data centers, or via hybrid setups. SASE includes various Data Loss Protection (DLP) features designed to strengthen protection for data at rest and in transit.
User access via secure authentication processes goes beyond password protection. Multi-factor authentication (MFA) and Single Sign On (SSO) portals provide tight control over who can access sensitive data.
SASE also allows managers to implement Zero Trust Network Access approaches. Role-based profiling, privileges management and network segmentation enable security teams to apply the principle "never trust, always verify." Granular controls protect data from unauthorized access, while managers can track access requests in real-time.
7. Secure cloud access
SASE offers cutting edge cloud-based security systems, adding greater assurance against data loss. DLP generally operates alongside Cloud Access Security Brokers (CASB) to lock down cloud assets at all times.
CASBs monitor ongoing service transactions and enforce security policies at the junction of cloud and network assets. They provide a valuable second line of defense should the security capabilities of cloud service providers fail.
8. Enhanced network visibility
Consistent network visibility allows security teams to understand potential and emergent threats, build inventories of connected devices, track user behavior, and maximize network efficiency.
Legacy systems struggle to ensure complete visibility when multiple cloud services are involved. SASE offers a solution, allowing constant network monitoring.
Real-time monitoring makes it possible to apply Zero Trust principles, tracking and controlling user privileges. Granular visibility also enables security teams to detect suspicious actions and contain threats before they reach a critical stage.
9. Improved network reliability
Legacy network security systems can struggle as centralized data centers give way to distributed setups based on remote working and cloud services. SASE solves this problem, providing a means to monitor data flows and analyze network performance via centralized consoles.
Remote workers can connect from anywhere in the world with minimal latency. Security teams can also integrate SASE tools with routing, ensuring network traffic is secure, encrypted, and transported as efficiently as possible.
With a SASE solution, there is no need to force network traffic through designated policy enforcement locations which can act as bottlenecks, compromising speed and user experience. Instead, SASE optimizes traffic flows for cloud-dependent companies.
10. Consistent policy enforcement
Cloud-based security tools can adapt instantly to cover newly connected devices or users. There is no need to configure hardware or add profiles to multiple security tools. Management is centralized, ensuring complete consistency.
Consistent security policy enforcement also has compliance benefits. Network managers can ensure that relevant data protection regulations are followed and provide in-depth audit information to regulators as required.
11. Flexible security options
There is no one-size-fits-all SASE solution. Various tools can be included or discarded, depending on the needs of each network.
SASE architecture is not strictly limited to a specific number of components — a combination of additional features can help improve the security levels of the approach, including SD-WAN, SWG, FWaaS, CASB, and ZTNA.
12. No need for traditional VPNs
SASE essentially replaces VPN threat protection with a software-defined alternative. Cloud-based security functions apply application and user cloaking, matching VPN encryption and IP anonymization. But there is no need for a stand-alone VPN client, and individual users do not have to set up VPN protection on each device.
The main challenges of SASE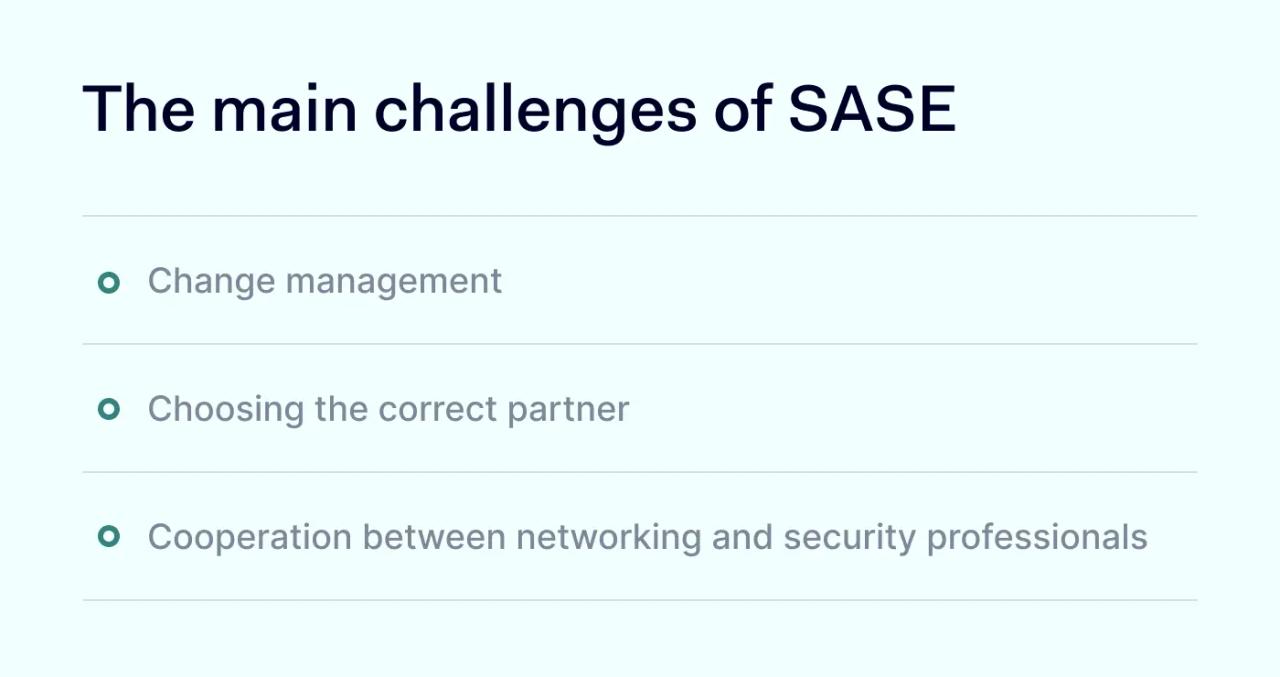 A SASE solution will bring many network security benefits. However, the technology is relatively new (emerging as a concept in 2019), and there remain some potential challenges to achieving a seamless SASE implementation.
1. Change management
Implementing a SASE solution can involve significant changes to traditional infrastructure that have become entrenched within corporate working practices. Moving overnight to SASE can compromise productivity and collaboration while potentially leaving security gaps until the new setup is in place.
This disruption makes it vital to manage the change process carefully, setting clear milestones and ensuring stakeholders are in the loop.
2. Choosing the correct partner
The quality of SASE products can vary. For instance, legacy security providers may not be skilled in cloud-native technologies. Other solutions may be overly complex or poorly supported, resulting in configuration issues that compromise performance. Some SASE vendors are strong on network performance, but weak on security threat monitoring.
Choose a SASE vendor with excellent support, flexible offerings, and the technical knowledge to solve your unique security challenges.
3. Cooperation between networking and security professionals
Transitioning to SASE should be a joint effort, taking into account both network and security functions. However, security teams often control the deployment process with network technicians factored in as an afterthought.
Ensure optimal outcomes by making collaboration a starting point. Security teams can handle commissioning and configuration while networking experts ensure that infrastructure is fully covered.
Grasp the opportunities offered by SASE
Secure Access Service Edge is an effective security solution for today's cloud-dependent organizations.
Software-based technologies such as SD-WAN and SDP allow SASE security setups to match the changing shape of corporate networks, enabling simple user onboarding, privileges management, and real-time threat detection. SASE also minimizes hardware requirements while centralizing update management. This tends to reduce security costs, while integrated routing can also avoid traditional network choke-points and simplify network complexity.
SASE implementations can be disruptive. However, any negatives are outweighed by numerous benefits of SASE – particularly for cloud-based networks with complex security needs.